Our main cruising area for weekly cruises is central Dalmatia near Šibenik where we have our base. Following you will find a map with most visited ports and anchorages and example routes.
Sample routes
The detailed route is determined by the skipper and crew depending on the weather conditions, skills and expectations of the crew. We prefer to sail with the wind then follow a tight plan. This way we can full enjoy the silence of sailing instead of using the engine. The vast number of marinas and anchorages in the area allow us to choose the route depending on the current forecasts.
Towards the setting sun – 144 NM
Saturday: 0 NM – Bilice – check-in and safety briefing
Sunday: 25 NM – ACI Marina Piskera
Monday: 20 NM – Telašćica Bay
Tuesday: 30 NM – Dugi Otok Island and Veli Rat Marina
Wednesday: 33 NM – Biograd and marina Kornati
Thursday: 10 NM Murter
Friday: 26 NM – Bilice
Saturday morning check-out
In search of lavender
Bilice – Primosten – Maslinica (Solta) – Stari Grad (Hvar) – Milna (Brac) – Rogoznica – Bilice
Only blue
Bilice – Rogoznica – Komiza (Vis) – Palmizana – Maslinica (Solta) – Primosten – Bilice
Islands of Dalmatia
Bilice – Kaprije – ACI Marina Piskera – Zatoka Telašćica – Veli Iż – Vrgada – Bilice
Our base location
This is the place we start and end our cruise. It is a lovely small town with calm marina near Krka waterfalls. You can find nearby a local restaurant, bar and a beach.
Bilice k. Šibenik (about 8km from Šibenik). Our location in Google: https://goo.gl/maps/UJDfb9eHv7jXk4Jt8
Embarkation: Saturday after 17:00
Disembarkation: Saturday at 09:00
Cruising area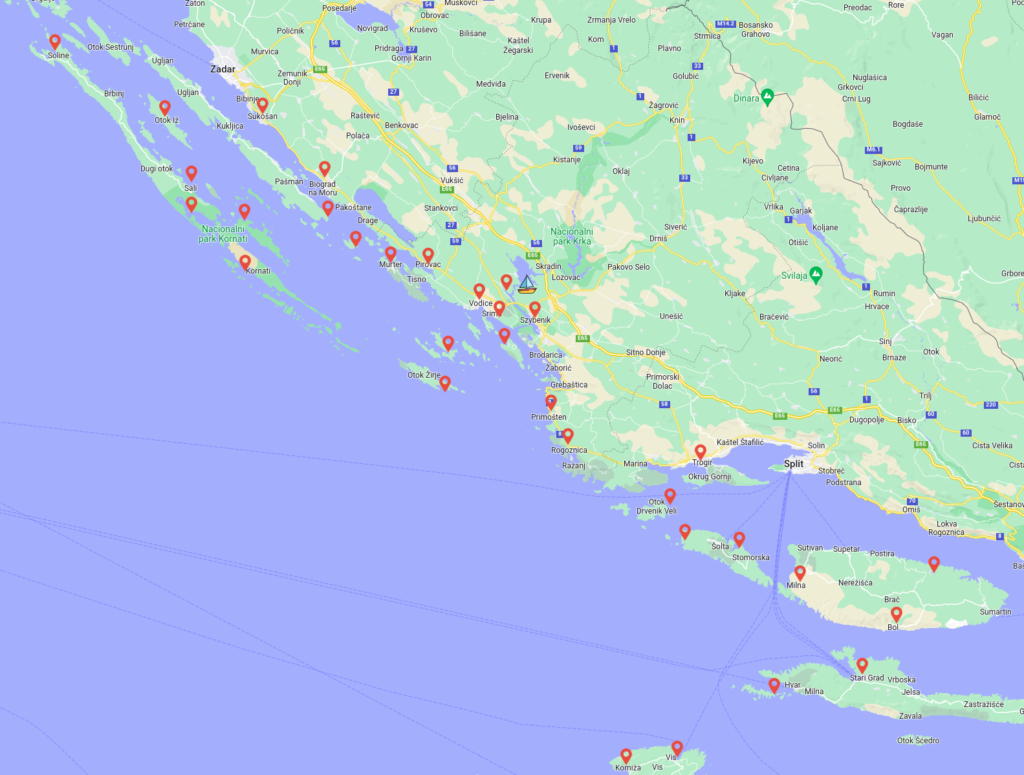 Most visited ports and anchorages:
Kornati National Park
Telašćica National Park
KRKA National Park (Skradin)
Vodice, Tribunj, Šibenik
Murter, Pirovac
Primosten, Rogoznica
Trogir
Vis, Komiza (Vis)
Bisevo (blue cave)
Solta: wreck diving, Maslinica
Brac: golden horn beach, bunker, Milna, Pučišća
Stari Grad (Hvar), Palmizana
Zlarin, Kaprije, Žirje, Tijat