Feel the wind in the sails and your body! We have prepared for you a cruise balanced with relaxation and activity.
You will be able to indulge in deep relaxation on the Mediterranean vibe and at the same time learn the basics of sailing. In your free time you will actively discover the Croatian shore and… yourself!
What we propose
A unique combination of sailing cruise and air yoga classes with a licensed instructor. During this cruise we focus on relaxation and regeneration. We take advantage of the Croatian sun and wind, moving slowly between the islands of central Dalmatia.
When we reach the shore, we soothe scattered thoughts, strengthen our bodies and take a deep regeneration. Such experiences can be given by movement. Breath in the rays of Dalmatian sunrises and sunsets. Villages, cities, national park, cliffs, waterfalls. The rhythm of an air yoga silk over the azure Mediterranean sea among the archipelagos.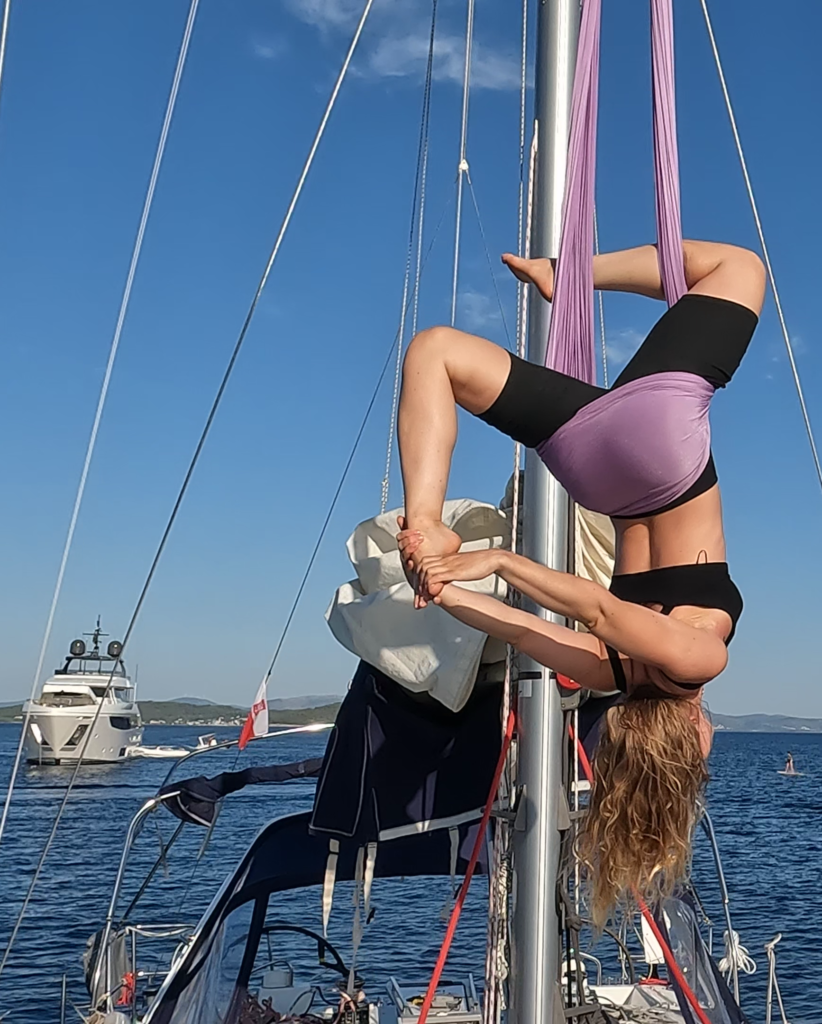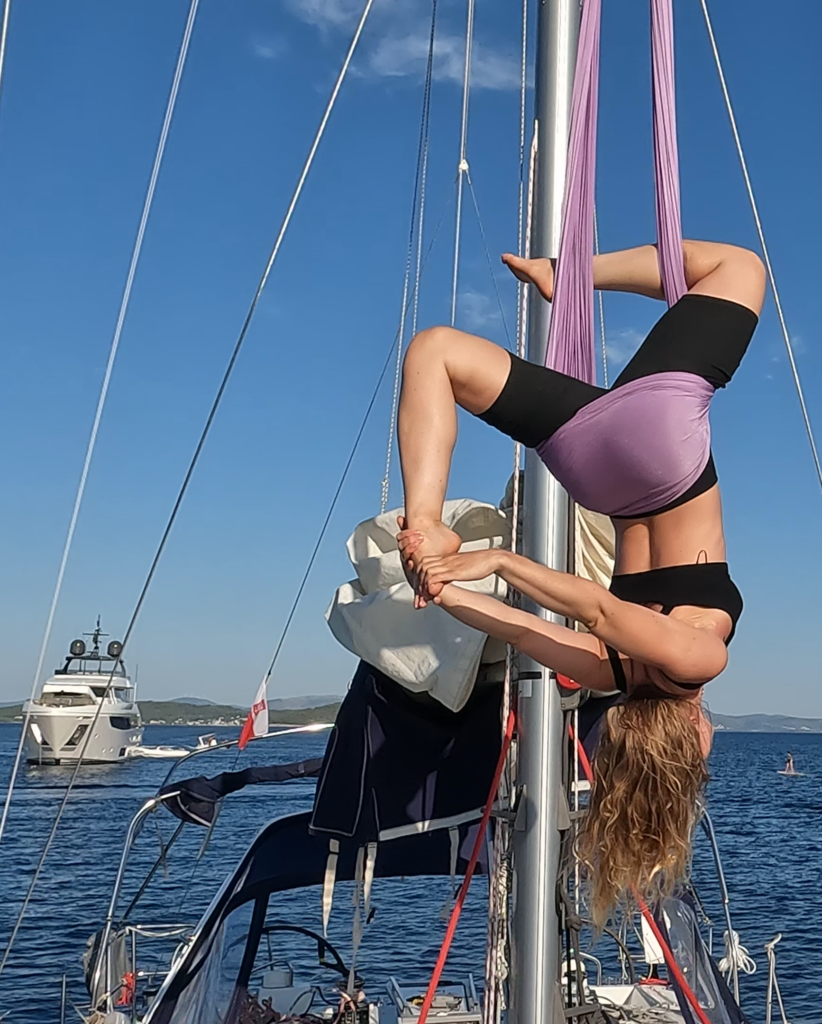 During the cruise week*
you will cover with us about 100-120 nautical miles (about 3-6 hours of sailing a day)
you will take part in morning yoga sessions (about 1h)
you will learn yoga in the air in evening individual sessions (beginners and advanced are welcome)
you will visit the local islands (villages, island of Mana, cliffs, National Park Kornati and Telascica, waterfalls Krka)
During anchor stops, there will also be time for swimming and snoreling, and for the brave also jumping off cliffs
* people plans, but during cruises nature has the last word. We will adapt the plan to weather conditions
Yoga and air yoga
The practice of breathing is ahead of us. Attempts to concentrate on it and simple pranayama.
We will enter standing, balancing and sitting asanas. Subsequently, bends backwards and asanas inverted. There will be plenty of well-deserved relaxation.
During an individual air yoga session, asanas will depend on your needs and your preparation for physical exertion. We will put emphasis on technique, but also the experience of deep regeneration.
What does air yoga look like in practice? Watch our video from the last season
How much does it cost?
The schedule and price list of Air Yoga & Sail 2023 along with a description of our offer can be found in the tab with the price list of flights.
The full offer of cruises in Croatia for the 2023 season and a description of the yacht can be found here.
Bookings
Do you want to book a cruise? Do you have any doubts? Write or call us!
Phone: +48 888 213 914, email: info@tomorrow.boats
About us
Kasia – yoga instructor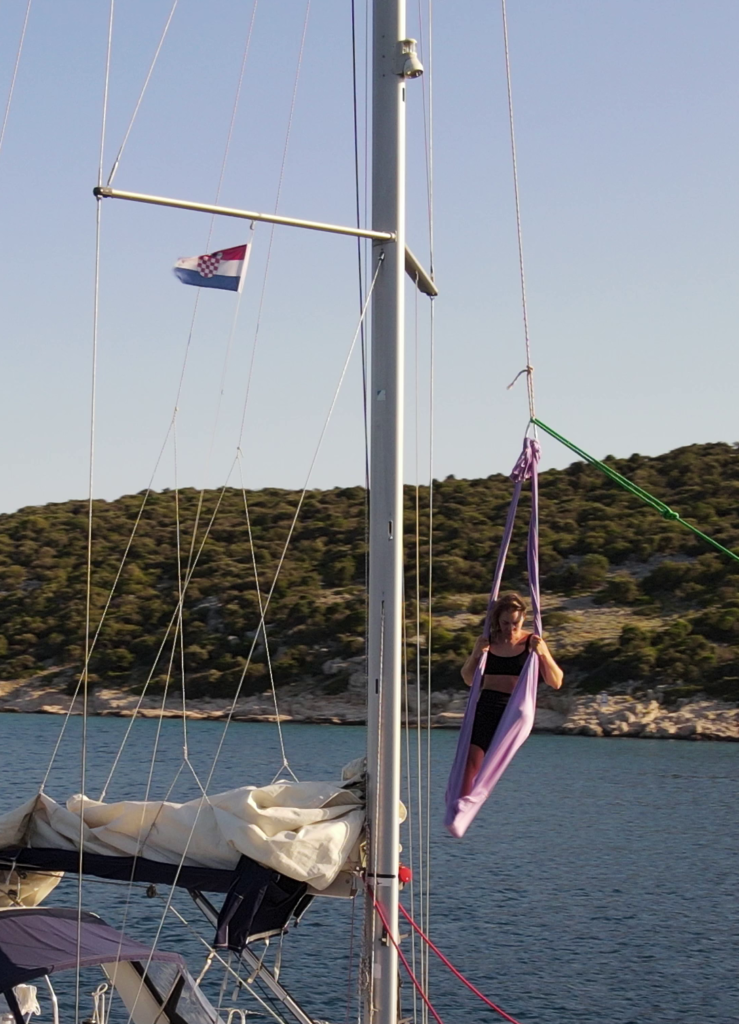 Kasia loves sport and has been following yoga for 6 years. Corrective Excercise Specialist accredited by the National Academy of Sport and Medicine, certified personal trainer lvl4 REPS/TR/2342 and Aerial Air Yoga® teacher.
Tomek – captain
He likes above all warm seas, where you do not have to put on a hat and a storm jacket very often, and you can walk barefoot. He crossed the Atlantic and the entire Caribbean sea as far as Mexico, roamed the small Antilles, and when he was hungry, he caught lobsters and collected coconuts. He also made money by making drinks on Cabo Verde and cleaning up luxury yachts for millions of dollars.
He holds a yachtmaster certificate, ISSA Offshore skipper, RYA SRC and Basic safety STCW Course